BlizzCon 2017



Key art

Announced
March 14
Dates
November 3 - 4
Attended
35,000+[1]
Performer(s)
Muse[1]
Website
BlizzCon.com
Floor map
BlizzCon 2017 was a BlizzCon event hosted by Blizzard Entertainment that took place at the Anaheim Convention Center on November 3-4, 2017. There were more than 35,000 people who attended BlizzCon 2017.
The official date for BlizzCon 2017 was announced on March 14, 2017.
An unexpected third batch of tickets was announced on June 21, 2017 after confirming that the convention center's new hall would be ready in time for BlizzCon.[2]
Summary
New co-op commander: Han and Horner
StarCraft II going free-to-play on November 14, with the Wings of Liberty campaign free.

If a player already owns the Wings of Liberty campaign, they're given the Heart of the Swarm campaign free of charge.
Versus: Ranked ladder accessible
Co-op: Access to the commanders and play up to level 5.
Tickets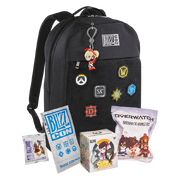 Swag/Goodie Bag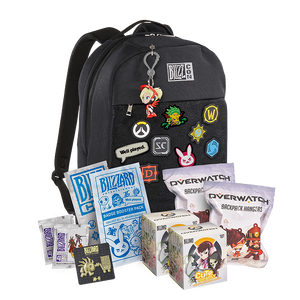 The Goodie Bag for 2017 was available for $45 USD ($35 for Virtual Ticket holders). Pre-purchasing was made available on September 13, 2017.[3]
Standard package includes:
Customers can get the "epic package" for an additional $25 USD, which includes everything from the standard package plus the following:
1 Badge Booster Pack, containing 3 blind badges
1 additional Blizzard Collectible Pin from Series 4
1 additional Cute But Deadly Blind Vinyl from Series 3 (Overwatch Edition)
1 Overwatch Backpack Hanger Pack, containing 1 blind hanger
1 BlizzCon 2017 Merchy Pin, only available in the Epic Upgrade or with a $150+ purchase during the BlizzCon merch sale (coming soon!)
Virtual rewards
Attending the event or purchasing a virtual ticket gave players access to:
Trivia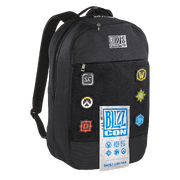 Since this year's BlizzCon concluded, BlizzCon 2018 saw a re-release of this year's goodie bag called the BlizzCon Badge Starter Kit. It includes the backpack, several badges for each game, and a Mysterious Badge Icon Pack.
Gallery
Videos
Movie Contest
Other
References
External links

BlizzCon
 BlizzCon® 2017 Takes Over Anaheim November 3 and 4

BlizzPlanet
 BlizzCon 2017 Panel Transcripts