Not to be confused with Classic Games.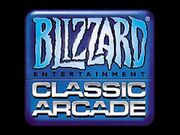 Blizzard Classic Arcade (also referred to as Blizzard Classic Games)[1] is a label for Blizzard Entertainment's originals games which include Blackthorne, The Lost Vikings, and Rock n' Roll Racing. It was announced on 7 October 2002 alongside the return of The Lost Vikings for Game Boy Advance.[2]
The Blizzard Arcade Collection brought most of these classic titles in their original and new definitives versions on modern systems.
Blackthorne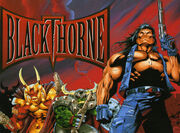 Blackthorne (released as Blackhawk in some European countries) is a cinematic platformer video game that was released in 1994. It was the second title to be released under the new name "Blizzard Entertainment", after Warcraft: Orcs & Humans. Blackthorne was added as a free download to Battle.net in 2013.[3]
In World of Warcraft, the wasp mob Blackthorne and the
 [Vlaros Corps Rifle] it drops are references to Blackthorne and its main protagonist, Kyle "Blackthorne" Vlaros. Other possible Warcraft references to the game include Blackthorn, a bandit lord in Warcraft III; Blackthorn Ridge, a subzone in the original Barrens; and Death Speaker Blackthorn, a boss in Razorfen Downs.
The Lost Vikings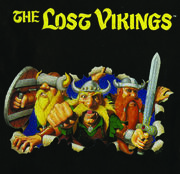 Main article: The Lost Vikings franchise
The Lost Vikings is a side-scrolling puzzle/platform video game series released in 1993. The first game of the series was added to Battle.net in 2014 as a free download, which is emulated through DOSBox.[4]
Rock n' Roll Racing
Rock n' Roll Racing is a vehicular combat-based racing video game released in 1993. It was added as a free download to Battle.net in 2014.[4] The game is a sequel to Blizzard's RPM Racing, which was the company's very first game, released in 1991. RPM Racing was a racing video game and technically a successful remake of Racing Destruction Set, a game developed by Electronic Arts.
In World of Warcraft, Badlands NPCs Jake Badlands, "Snake" Sanders, and Tarquinn are all references to the Rock n' Roll Racing characters of the same names. In Heroes of the Storm, Kael'thas has a skin called Cyberhawk Kael'thas, a reference to the Rock n' Roll Racing character Cyberhawk.
Others
The following are also considered part of the Blizzard Classic Games:[1]
Other classics include but are not available for download from Blizzard's website include:
References
External links
Main

Teams

Products

Games

Applications

Mobile apps

Blogs

Web series

Other