For the one-handed axe, see  

[

Blood Fury

]

.
Blood Fury

Blood Fury
Orc racial
2 min cooldown
Increases melee attack power by X and your spell power by Y. Lasts 15 sec.

Usable by
Class
All
Race
Orc
Properties
School
Physical
Cooldown
2 minutes
Related buff
"Lok-tar ogar!"[1]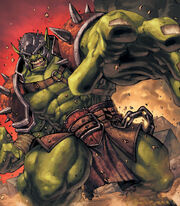 Blood Fury is an orc racial ability that temporarily increases attack power and/or spell power, depending on the character's class. At level 90, Blood Fury grants 4514 attack power and/or 2257 spell power.
Notes
Lore
The orcs can work themselves up into a natural bloodlust frenzy, a capacity that was only demonically amplified by consuming the Blood of Mannoroth.
Patch changes
See also
References
External links