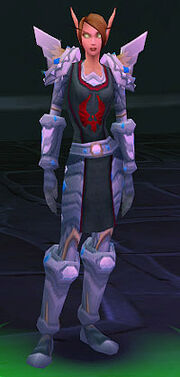 The Blood Knight Tabard is worn by members of the Blood Knight order, but despite being worn even by lowly initiate NPCs, it is only accessible to blood elf paladin adventurers (players) who complete their level 50 class quest.[1]
This tabard will be converted to a normal

 [Guild Tabard] if a blood elf player faction-changes to Alliance. However, if the blood elf player race-changes to tauren, then they will be able to keep the tabard.
Source
This item is a quest reward from




 [20-30D] Weapons of Darkness.
Prior to Cataclysm, it was one of the rewards of completing the paladin class quest chain for obtaining the paladin class mount, Thalassian Charger.
Patch changes
References
External links