This article's name is unofficial.

Please note that while the content is valid, this article's name is not official.
This is because no official name is available for the subject of this article. We use a descriptive name instead.
This article should not be moved unless

discussed

first - Remember to follow the naming policy.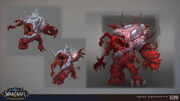 Blood abominations are a type of creature introduced in Battle for Azeroth.
Known
The subject of this section did not make it out of the beta stages.
Notes
Creature group
Aberration creatures