Bloodbrood Whelpling
Use: Teaches you how to summon this companion.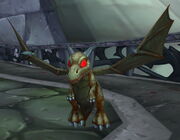 Bloodbrood Whelpling is an undead whelp companion. It matches the Blood version of the

[Deathlord's Vilebrood Vanquisher].
Source
This item can be purchased for 1,000
from Slimy in Acherus: The Ebon Hold above the Broken Isles. In order to buy it, you must have completed


 [45] The Lost Glacier.
Pet Journal
Unlike other wyrms, blood wyrms drain their foes rather than consuming them whole.
Battles
Undead: Returns to life immortal for one round when killed, but deals 25% less damage.
Patch changes
See also
External links
Battle pet types
Undead battle pets

Backbone

Bloodbrood Whelpling

Carpal

Clutch

Lost Soul

Maw Crawler

Micromancer

Mu'dud

Severs

Spinebug

Toenail

Torghast Lurker

Writhing Spine