Bloodsworn


Author(s)

Doug Wagner

Artist(s)
Jheremy Raapack (Pencils)


Joe Weems

(Inks)


Richard Friends

(Inks)


Jeromy Cox

(Colors)
Pages
160
Publisher(s)
DC Comics
Publication date
August 27, 2013
Format(s)
Hardcover
Retail price
US: $16.49
ISBN 10
1-4012-3029-6
ISBN 13
978-1-4012-3029-6
World of Warcraft: Bloodsworn is the first graphic novel of the World of Warcraft: Horde comic series. It contains the canceled issues Issue 1 and Issue 2.
Pop Mhan, who was originally scheduled to be the artist on the book, at some point left the book and was replaced by Jheremy Raapack, with inks by Joe Weems and Richard Friends, and colors by Jeromy Cox.
The graphic novel's cover, illustrated by Samwise Didier and Alex Horley Orlandelli, along with its official title, was revealed on July 21, 2011 during the Blizzard Licensed Products panel at Comic-Con 2011. The comic was expected to be released in late 2011 or 2012, according to artist Jheremy Raapack, and as of June 2011 was in "crunch" time.[1] The comic was finally relased in August 2013.
Summary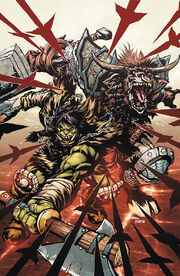 As the Cataclysm rips through Azeroth, Warchief Garrosh Hellscream orders the best warriors of the Horde to come forward and serve in a new army, lest their foes in the Alliance sense weakness and attack. We meet these warriors as they come forward – from very different lands, backgrounds, traditions…
Will they be able to overcome their deep differences and work together to serve the Horde, especially when challenged by a powerful, unfamiliar race claiming to be the real rulers of Azeroth?[2]
Characters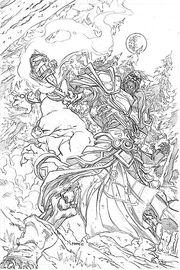 | Major | Supporting | Minor | Mentioned |
| --- | --- | --- | --- |
| | | | A new elemental leader of Maraudon |
Locations
Other
World of Warcraft: Horde
World of Warcraft: Horde was originally an original graphic novel series set in the Warcraft universe, and the companion series to World of Warcraft: Alliance. Wildstorm intended to launch these new Horde and Alliance titles to complement the World of Warcraft ongoing series, which came into a wrap-up in issue 25. The new Horde title spinoff was intended to hit newsstands on January 2010.[3] Originally intended to be a monthly series, Wildstorm instead opted to transition the series to an original graphic novel format, allowing them to place greater emphasis on art and narrative.[4] Since the release of Bloodsworn, the series hasn't been mentioned or revived. The descriptions of the first two known issues of the canceled series became the start of Bloodsworn.
References
Type
Binding
& format
Comic books

World of Warcraft Comic Collection

Non-canon