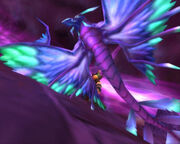 Blue Dragonhawk Hatchling is a baby dragonhawk companion that follows you around, meaning it is a non-combat pet and will not aid you in battle.
Source
This item is sold by Dealer Rashaad in Stormspire for 10

.
This pet is also a possible reward from
 [Growling Sac].
Pet Journal
Raised by the few dealers still willing to trade in Netherstorm.
Battles
Dragonkin: Deals 50% additional damage on the next round after bringing a target's health below 50%.
Patch changes
External links
Battle pet types
Dragonkin battle pets

Blue Dragonhawk Hatchling