For the mob in Spirit Glen, see Boggart (mob).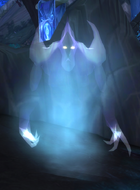 Boggarts, also called changelings,[1] are shapeshifting spirits found in Ardenweald. They can turn into animals or members of other races, such as faeries and vorkai, allowing them to sow chaos and discontent; they are often seen turning into Drust-like or ravager wasp-like illusions. A place full of disguised boggarts is considered haunted.[2] They appear to be collaborating with the spriggans and are empowered by Mueh'zala, such as Noisul of Many Faces.[3][4]
Trivia
The boggart is a spirit from English folklore. In recent years, they have been used as a specific creature in Harry Potter. The shapeshifting, inherently spectral nature of the kind seen in Ardenweald is closer to the way they're presented in the latter than the former.
Their other name used in  [60] 

Silk Shortage

is also a reference to the real-world folklore, the changeling, usually tied to fairy myth like much of Ardenweald.
Boggarts use a shade model covered in mist.
References
Creature group
Aberration creatures