Boiling Soul Remnant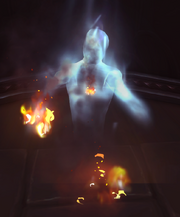 Boiling Soul Remnants are soul remnants in the Soulforges of Torghast, Tower of the Damned. They function like normal Bound Soul Remnants, and add a stack to Soul Remnant's Blessing when freed, increasing agility/intellect/strength by another 1% for the remainder of the run.
Quotes
A taste... of hope.

Are... you... real?

Can you... hear me?

I... do not... deserve this...

Please... take my blessing.

Take me away... from here.

The last of my strength... is yours.

They have taken... everything...
Trivia
During the alpha they were simply named Boiling Soul and would grant 1

[

Freed Soul

]

when freed.
Patch changes
External links