Bones of Transformation
Toy
Use: Adds this toy to your Toy Box.

Endure the transformation for 2 min. (10 Min Cooldown)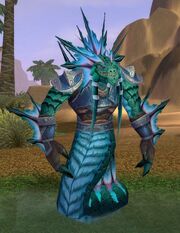 Bones of Transformation is a rare archaeology artifact that requires 450 skill to find and 150 Night Elf Archaeology Fragments to solve. Up to three
 [Highborne Scroll] keystones may be used to complete it.
Description
When activated (out of combat), the player transforms into the appearance of a Naz'jar Honor Guard.
History
Unsolved
These bones show a curious mixture of humanoid arms and serpentine tail, convincing you that they are probably from a naga. What is more interesting is that the skeleton has been articulated and posed as if it was once displayed in a museum.
Patch changes
External links
Non consumed player-transforming items

Vendor
Drops
Treasure
Quests
Profession

 

[

Bones of Transformation

]

Event
Other