The subject of this article was removed from World of Warcraft in patch 4.0.3a but is present in World of Warcraft: Classic.

The subject of this article does not exist on the retail realms anymore.
The categories should reflect this, and should not include retail realm categories.
Boss Tho'grun was an ogre of the Dustbelcher found in the Badlands. He is a mercenary leader.[1]
Both Gorn and Garek wanted the Sign of the Earth that Tho'grun stole. Boss Tho'grun patrolled a path with his bodyguards counter-clockwise stopping at four locations ( Camp Cagg -> a resting point between a big rock and a mountain-> Camp Boff -> Camp Wurg -> (repeat).
He has been absent since the Cataclysm, probably being killed in the lore.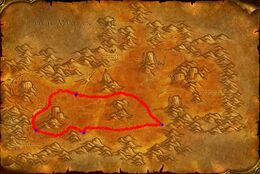 Objective of
Patch changes
References
^  [43] 

Broken Alliances
External links