This quest is part of the Boasting Weaponsmiths quest chain.
Objectives
Deliver the Boulder-in-a-Box to Lilith the Lithe in Everlook.
Description
Here you go, as promised! One Boulder-in-a-Box.
Lilith was asking for this, wasn't she? She's my only customer!
Progress
Oh, it's you again. Where's that boulder?
Completion
Ah, you actually brought the boulder! I'm a bit surprised.
Stand back and witness the pinnacle of craftsmanship.
Rewards
You will receive 40

.
Notes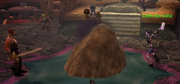 On completion, a boulder appears, and Lilith smashes it, saying
Lilith the Lithe says: Watch and weep.
Lilith the Lithe says: You see? Nothing beats the crushing power of my hammers.
Progression
External links