Box o' Tricks
Box o' Tricks
Use: Disguise yourself as an innocuous object in order to infiltrate Legion Hold. While hunkered underneath the box, you will not be able to move. May only be used while standing near the Legion Communication Device at Legion Hold.
"A.C.M.E. jumbo disguise kit."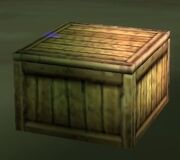 The Box o' Tricks is provided as an objective for

 [69] To Legion Hold.
Trivia
This item is probably a reference to the Cardbox used by Snake in Metal Gear games.
Patch changes
External links