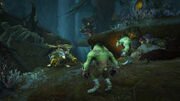 Brackenhide Hollow is a dungeon in Dragonflight.
Description
Brackenhide Hollow is the largest gnoll home in the Dragon Isles, yet the wild gnoll settlement holds unspeakable danger. Decay seeps from the Hollow, spreading among the gnoll tribes of the Azure Span and threatening to rot away all life. In the heart of the Hollow lies the leader of the Brackenhide, and the knowledge she gleefully shares with her withered kin.[1]
Map and subregions
Maps
Encounters
Hackclaw's War-Band

: Rira Hackclaw and her compatriots, Gashtooth and Tricktotem have risen up as a deadly warband among the Brackenhide. Their tactics are the reason tuskarr never travel alone, and their strength is the reason Wratheye has them guarding the gate to the Hollow.

Treemouth

: Withered by decay, this once proud ancient has been dubbed Treemouth by the gnolls. As the rot settled into its branches, so too did it settle in the poor creature's mind, leaving a creature bent on nothing more than the need to feed and spread decay.

Gutshot

: This sharpshooting gnoll has mastered the art of hunting, trapping, and killing her prey. Impressed by her abilities and cunning, the Decatriarch has assigned Gutshot to oversee and train the other hunters…and take out any interlopers that might venture too far into Brackenhide.

Decatriarch Wratheye

: Wratheye discovered decay magic in her thirst for power, and declared herself the Decatriarch after mastering it. She now builds the strength of the Brackenhide by spreading her dark magic among her tribe so the tuskarr, and all of the Azure Span, will rot in its wake.[1]
Patch changes
References
External links
Den of Decay

Gutshot's Overlook

Lost Kanniak

The Rotwood

Brackenhide Hollow category
Azure Archives

Big Tree Hills

Brackenhide Brambles

Brackenhide Hollow

Brackenhide Outskirts

Brackenhide Waterhole

Camp Antonidas

Camp Nowhere

Cobalt Assembly

Creektooth Den

Creektooth Den

Creektooth Den - Decayve

Darktooth Pond

Djardin Cliff Camp

Djardin Island

Drake Eye's Pond

Drake Hatchery

Forge of Arcanum

Frost Giant Cliffs

Gorloc Shore

House of Hogger

Hudson's Rock

Imbu

Iskaara

The Filled Bowl

Kalthraz Fortress

Kargpaw's Den

Kauriq Gleamlet

Khuri's Fishing Spot

Lev'al Rock Isle

Longclaw Island

Lost Ruins

Misty Canyon

Primalist POI

Primalist POI 2

Rhonin's Shield

Rockhide Village

Ruins of Karnthar

Rustpine Den

Shiverweb Vale

Slyvern Ice Cave

Slyvern Plunge

Snowhide Camp

Theron's Watch

Three-Falls Lookout

Timbertooth Trail

Tower of Iskhdormi

Training Grounds

Traitor's Rest

Tuskarr Ice Elemental Cave

Vakthros

Vakthros Cavern

Vakthros Range

Vakthros Summit

Whaler's Nook

Winterpelt Hollow

Yuji's Fishing Spot

Zelthrak Outpost