Not to be confused with Dueler's Guild.
The first rule of brawls is you don't talk about the brawls. The second rule...[1]
The Brawler's Guild is an organization that arranges one on one battles between willing combatants, captured monsters, and other participants in gladiatorial combat. Being a neutral organization, members of the Horde and Alliance are both allowed to enter, rising through the Brawler's Guild ranks with more wins. Prizes are awarded at higher ranks. The fights are all solo PvE matches in which the players must adapt and use different strategies depending on which opponent they are currently facing, making the Brawler's Guild one of the most challenging PvE activities a player can attempt on their own.
The announcer will change between Bizmo and Boss Bazzelflange according to the location (respectively Bizmo's Brawlpub and the Brawl'gar Arena).
Entry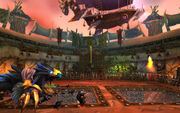 On 27 November, patch 5.1 and the Brawler's Guild went live, and Community Manager Nethaera again confirmed how invites will be obtained. "Entry into the brawler's guild is by invitation only. Invitations can be found on the Black Market Auction House, by invitation from somebody within the guild, and occasionally as drops from certain Horde and Alliance NPCs." [2][3]
The

 [Blood-Soaked Invitation], which is Bind on Pickup, can be found when you complete Legion dungeons or open Emissary chests.[4]
Upon reaching Rank 7 with Bizmo's Brawlpub or Brawl'gar Arena players will receive one

 [Brawler's Pass] (Alliance / Horde) in the mail. The pass can be traded and sold on the Auction House to other players and is the only other means to gain access to the Brawler's Guild.
Using either invite, the account is flagged to join the Brawler's Guild, giving all characters on a player's account access to the guild. Future expansions will not get rid of this membership. Once you're in, you're in for life!
A nice little bonus is that once you reach rank 8, this gives you the right to go into the area for VIPs only.
Starting fights
To join the queue, speak with any bouncer at Bizmo's Brawlpub in the Deeprun Tram for the Alliance, or Brawl'gar Arena for the Horde:
You here to fight?
 Yes, sign me up for a fight!
Speak to any bouncer or look at the Queued for Brawl buff tooltip to see your spot in line. Then, wait until the queue pops - a boss emote will display warning that the next turn is the adventurer's:
You are next in line!
There will be no warning upon getting teleported to the arena floor. The fight lasts two minutes before the arena itself will kill adventurers who take too long.
Queue system
The queue system is built on a first come, first serve basis, with one exception: you will be placed one spot behind for your first fight for the day (current fight, next fight, and your fight). This rule is applied to all your eligible characters individually, not to your account.
After the match
Winners will receive a
 [Brawler's Purse] and 250 reputation with the Brawler's Guild.
Losers will have to be resurrected.
Gladiators
Normally, challengers will only fight the next higher-ranked gladiator until it is defeated or the challenger throws in the towel, but the addition of Challenge Cards gives challengers the opportunity to relive earlier fights. For the ranked fights, defeating a gladiator will unlock that gladiator's challenge card. There are also rare challenge cards, unlocked upon gaining higher ranks and completing quests that are started by items found in the world.

This section concerns content related to Battle for Azeroth.
Rank 1
Rank 2
Rank 3
Rank 4
Rank 5
Rank 6
Rank 7
Hiatus
The Brawler's Guild was on hiatus since the launch of
Patch 8.0
in preparation for "the next big thing".
[5]

This section concerns content related to Legion.
Patch 7.1.5 sees the return of the Brawler's Guild, with new challenges and rewards.
Rank 1
Rank 2
Rank 3
Rank 4
Rank 5
Rank 6
Rank 7
Hiatus
The Brawler's Guild was on hiatus between the launch of
Patch 7.0.3
before
Legion
in preparation "for the next big thing".
[6]
The guild returned in
Patch 7.1.5
.

This section concerns content related to Warlords of Draenor.
As part of keeping the Brawler's Guild fresh, Patch 6.0.2 retuned the fights for level 100 players, putting an end to the first season of fights. When players reach level 100 they will find that their ranks have been reset to one and the fights have been changed around, with some bosses going away from the rank rotation completely and becoming Challenge Card fights, making a max of eight ranks again. For example, Bruce will now be a Rank 5 fight and Hexos is removed. Players will also find new achievements for reaching the higher ranks again, the old ones being moved to the new Legacy achievements tab.[7]
Legacy fights are those that were part of Season 1, but were removed and made available only through challenge cards.
Rank 1
Rank 2
Rank 3
Rank 4
Rank 5
Rank 6
Rank 7
Challenge Card
Legacy

This section concerns content related to Mists of Pandaria.
Below is a list of the fights in the first season of the Brawler's Guild that was for level 90 players during Mists of Pandaria.
Rank 1
Rank 2
Rank 3
Rank 4
Rank 5
Rank 6
Rank 7
Rank 8
Rank 9
Rare
Challenge Card
Former quests
All of these quests and sources were removed in Patch 7.0.3.
Sources
Rewards
Achievements
Season 3
Brawler's Guild does not exist in Module:AchievementTable/data
Season 1 and 2
Trivia
Videos
Patch changes
References
External links

World of Warcraft Community Site
 Brawler's Guild Updates

World of Warcraft Community Site
 Brawler's Guild Invitation Update

World of Warcraft Community Site
 Let's Talk About Brawler's Guild
Guides

Icy Veins
 Brawler's Guild Guide
Brawler's Guild

Ranked

Rank 1
Rank 2
Rank 3
Rank 4
Rank 5
Rank 6
Rank 7

Challenge
Cards
Random Brawls

Rank 1
Rank 2
Rank 3
Rank 4
Rank 5
Rank 6
Rank 7

Rumbles
Removed