Brewfather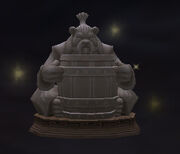 The brewfathers were three particularly revered pandaren brewers who each invented a unique form of alcoholic drink with special properties. Shrines of them can be found across Pandaria, and each one has a corresponding pandaren Archaeology artifact.
Miniature smuggled brewfather statues are among the
 [Black Market Merchandise] stolen by the Hatescale saurok in the Veiled Stair.[1]
Notes
See also
References