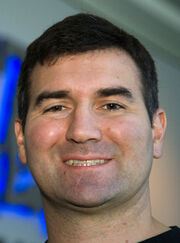 Brian Holinka is Lead Combat Designer on World of Warcraft at Blizzard Entertainment. He is involved in all combat related systems including class design and PvP content.
Career
Desvin

Role
Game Designer

Most recent posts on WoW Forums

Twitter
Holinka joined Blizzard and the WoW team in August 2012.[2] His background before this was as a first-person shooter (FPS) designer,[2] including working on the multiplayer components of Transformers: Fall of Cybertron, Homefront, and Frontlines: Fuel of War.[3] He was previously a member of High Moon Studios[4] and Trauma Studios,[5] and was brought into Kaos Studios when it was formed from the latter group's core members.[6] Holinka got his start in the game industry moonlighting on the "Desert Combat" mod for Battlefield 1942 while serving as a Captain in the United States Air Force.[3]
On June 15th, 2017, he announced that he was moving to another project at Blizzard.[7] In October 2018, he returned to World of Warcraft as Lead Combat Designer, heading up the team responsible for all combat related systems including class design and player versus player content.[8][9]
Quotes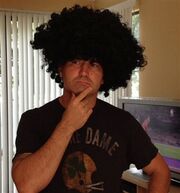 "We've tried very hard to make PvP a bigger part of the game, and more accessible to more people, because in the end, we all want more people to kill."[2]
"One of the main reasons I became more active on things like Twitter was I really wanted PvP players to know that there was someone at Blizzard focused on PvP"[2]
"I think one of the misconceptions though is that I'm like the only one who cares about this stuff … the whole team cares about PvP."[10]
About Brian:
"We're always consulting closely with Brian, like "If we make this change is it going to make them overpowered there?" - "No, it'll be fine, you can do it" or "Oh my god, don't do that!" We scare him a lot - "Oh no, no, don't do that!" is frequently the response we get from Brian." - Kris Zierhut, Lead Class Designer[10]
Notes and trivia
References
External links

Twitter