Not to be confused with Halduron Brightwing, Mayara Brightwing, or Bria Brightwing.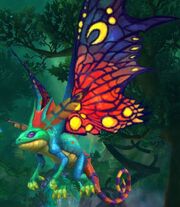 Brightwing is a faerie dragon located in the Emerald Dreamway. She asks the Archdruid of the Dreamgrove to help her complete various tasks: planting

 [Dream Seeds],[1] collecting

 [Rarefied Water] in the Eye of Azshara,[2] and retrieving the

 [Pendant of Starlight] from Abyssal Queen Sha'rathra to make her incredibly happy. Afterward, she pledges herself to the Archdruid.[3] The Enchanted Fey Dragon is her older brother. He affirms that she was, in fact, adopted.[4]
Like Lunara, Brightwing originally appeared as a playable character in Heroes of the Storm.
Quests
The subject of this section did not make it out of the beta stages.
Quotes

This section concerns content related to Legion.
Dialogue
Main article: Champion: Brightwing (quest)#Notes
Gossip
Hello, friend! Brightwing likes it when you visit!
On-click
Greetings
Hello.
What's a beautiful day?
Am I dreaming?
Hi, friend.
Heh heh heh.
Pissed
What is it?
Yes, friend?
Hey! Stop poking me!
This is my happy face. You don't want to see me angry.
Cut it out... *roar*
Do it again and... I'LL RIP OUT YOUR HEART! Friend.
Farewell
Farewell.
Rest in pieces.
Bye, friend.
Aww. You're leaving?
See you later.
Fly high.
"Oh, hi, new friend! I am Brightwing. Do you know about faerie dragons? Well, we like happy things, like... nature, and making new friends. Ooh, and snack time! When playing with friends, the fun never ends!"
In Hearthstone

This section contains information exclusive to Hearthstone and is considered non-canon.
Brightwing appears as a legendary card in Hearthstone. She was first added in 2019's patch 14.6 along with several other cards to make up for the Classic cards moved to the Hall of Fame set. Her flavor text reads: Little faerie dragons are made of sugar and spice and maniacal vice.
She appears as an epic Caster mercenary in the Mercenaries game mode.
In Heroes of the Storm

This section concerns content related to Heroes of the Storm and is considered non-canon.
"The Emerald Dream is not a dream and has no emeralds. Deep thought. Head hurts now."
— Brightwing[5]
Before she was canonized in Legion, Brightwing made her original appearance as a playable character in Heroes of the Storm.
The Faerie Dragons of Ashenvale are known for their playful demeanor, seemingly disappearing at a whim. The mischievous Brightwing is no exception, often materializing out of nowhere to save her allies or just to mock her foes.[6] Brightwing believes that nature is magic, and friendship is delicious.
Darkwing is her twin brother.[7]
Trivia
Gallery
Videos
Patch changes
References
External links