Brilliant Kaliri
Use: Teaches you how to summon this companion.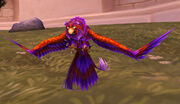 The Brilliant Kaliri is mailed to you when you complete

 [Menagerie]. This achievement requires that you learn 125 different kinds of companions.
Keep Collecting!
Hello!
Wow, you're becoming quite the collector of cute critters, aren't you?
I thought I'd write a small note and send a small gift to encourage your efforts. Keep it up!
--Breanni
Pet Journal
One of the rarest creatures, this kaliri is set apart from others by its brilliant plumage and the lengths hunters will go to capture them.
Battles
Patch changes
External links
Battle pet types
Flying battle pets

Archetype of Motion

Archetype of Satisfaction

Battie

Bloodsucker Vespoid

Brilliant Kaliri

Dusty Sporeflutterer

Enraged Poultrid

Fluttering Glimmerfly

Foulwing Buzzer

Fuzzy Shimmermoth

Gilded Wader

Helpful Glimmerfly

Larion Pouncer

Multichicken

Necroray Spawnling

Pearlwing Heron

Scarlet Proto Avian

Sinfall Screecher

Stony

Vibrant Glimmerfly

Wader Chick

Wild Etherwyrm