Not to be confused with Broken Hills.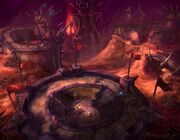 Broken Hill is one of the three areas (the others being the Overlook and the Stadium), that you need to control for Hellfire Peninsula's PvP objective. Controlling all three gives your faction a 5% damage boost.
Trivia
Broken Hill, though collapsed, resembles a pre-release WarCraft II building.
External links