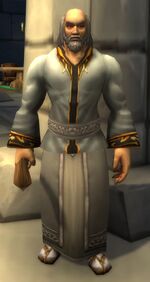 Brother Cassius is a human reagent vendor located in the Cathedral of Light in the Alliance capital of Stormwind City. He is a member of the Church of the Holy Light and can be found in the eastern wing of the cathedral, in a room adjacent to the main hall.
During the war against the Lich King, Cassius assisted the pandaren Li Li Stormstout and Strongbo, telling them that to find the Thunderbrew and Brewfest, they need to go to Ironforge via the Deeprun Tram.[1]
Sells
Criteria of
Using

 [Mistletoe] on him during the Feast of Winter Veil is required for the achievement


 [Holiday Bromance].
Quotes
Gossip
May the light guide your path and aid you in your journies <sic>. If you need any assistance browsing, I will be right over here.

 I want to browse your goods.
See also
References
External links