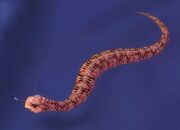 Brown Snakes are companion snakes.
Source
This item is sold by Xan'tish in Orgrimmar for 50

.
Pet Journal
The brown snake is native to Horde-controlled territories. It seems unremarkable until its victims are within range.
Battles
Notes
A sample "Brown Snake" exists as a neutral level 1 beast following Xan'tish.
Patch changes
External links
Battle pet types
Beast battle pets

Archetype of Cunning

Archetype of Discovery

Archetype of Predation

Bloodfeaster Spiderling

Blushing Spiderling

Brown Snake

Copperfur Kit

Corpulent Bonetusk

Goldenpaw Kit

Green Viperid

King Viperid

Momma Vombata

Red Viperid

Rosetipped Spiderling

Ruby Baubleworm

Rustfur Kit

Sable

Tarachnid Ambusher

Tarachnid Stalker

Topaz Baubleworm

Tunneling Vombata

Turquoise Baubleworm

Verdant Kit

Viperid Menace

Vombata Pup