The subject of this article could only be obtained prior to patch 5.0.4.

The in-game information in this article is kept purely for historical purposes.
| | |
| --- | --- |
| | The subject of this article or section is part of Brewfest, a seasonal event that lasts two weeks. Once the event has run its course, this will no longer be available until next year, but there are no guarantees. |
Bubblier Brightbrew Charm
Item Level

365

+46 Stamina
Use: Summon the Brewmaiden, whose very presence bolsters a party's vigor. Wave at her for Brewfest Brew! (10 Min Cooldown)
Requires Level 85
Bubblier Brightbrew Charm was a possible drop from Coren Direbrew in the Grim Guzzler of Blackrock Depths during Brewfest 2011 and 2012.
The Brewmaiden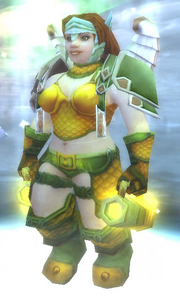 Using this item summons the (Bright) Brewmaiden. She appears in a circle of light (much like that of the
 [Elune Stone]). She heals all party members for about 135 HP per two seconds for the time she stays around.
Patch changes
See also
External links