Bucket of Primordial Sludge
Use: Teaches you how to summon a Primordial Bogling.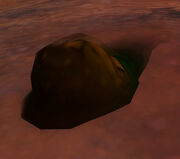 The Bucket of Primordial Sludge teaches you how to summon a Primordial Bogling, an oozeling companion. This item drops from the Bog Beast, which can be summoned at the Blistering Bog in Revendreth during
 [50-60WQ] Muck It Up.
When active, the Primordial Bogling will sometimes afflict you with
  Covered in Muck, which turns you a dark orange color for 20 seconds.
Pet Journal
The sludge that can give rise to the dredgers has been known to coalesce and run a muck.
Battles
Magic: Cannot be dealt more than 35% of their maximum health in one attack.
Notes
During the Shadowlands beta, the companion was named Primordial Sludge.
Patch changes
External links
Battle pet types
Magic battle pets

Anomalus

Archetype of Focus

Bubbling Pustule

Geordy

Maw Stalker

Omnipotential Core

Pocopoc

Primordial Bogling

Resonant Echo

Shy Melvin

Sludge Feeler