Burial Urn (archaeology)
Burial Urn
Use: Carefully crate the restored artifact.
"Artifact details have already been logged in your Archaeology Journal, under the Completed Artifacts tab."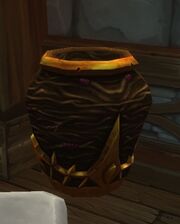 Burial Urn is a common arakkoa archaeology artifact, created from 55

[Arakkoa Archaeology Fragment]. One
 [Arakkoa Cipher] may be used to solve this artifact.
Description
In death all Arakkoa seek to join the Sun-God Rukhmar in the skies above Draenor, thus cremation is vastly preferred to burial. Some have their ashes scattered high in the skies, others are collected in ornate urns and placed in crypts.
Patch changes
External links