Burning Blade Cache
For the cache in Talador, see Burning Blade Cache (Talador).
The Burning Blade Cache is found at ... [41.8, 78.1]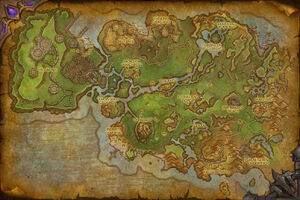 in Nagrand.
Contents
The pot contains a random uncommon item.
Tracking quest
To check whether the cache has been looted, copy and paste this command into the chat window:
/run print(C_QuestLog.IsQuestFlaggedCompleted(35696))
If a "true" appears in the chat window, the cache has been looted; "false" indicates the opposite.
Patch changes
External links