This article is about the Burning Legion's war of destruction. For the World of Warcraft expansion, see World of Warcraft: The Burning Crusade. For other uses, see Burning Crusade (disambiguation).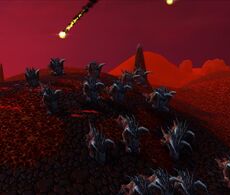 "Images of innumerable dead worlds flickered through his mind. He saw gigantic ruins, toppled buildings that had once reached the sky, lakes of glass where proud cities had once stood, endless plains of rubble. He saw the lights of life in the universe winking slowly out until only a few remained."
— The demon hunter Vandel, witnessing the destruction left in the wake of the Burning Crusade[2]
The Burning Crusade was a vast war of destruction across the cosmos initiated by the fallen titan Sargeras, and carried out by his Burning Legion of demons. It was launched with the goal of destroying all life and razing or conquering all worlds in existence. In doing so, it would prevent their corruption by the Void and purge the universe from all potential influence of the void lords.
The conflict would span many thousands of years and would come extremely close to its final goal. After triumphing over countless worlds, the Legion's progress would be halted before its most important target, the planet of Azeroth and its world-soul.
Despite the determined efforts of Sargeras and his forces, the defenders of Azeroth turned back the Crusade on several occasions. This would culminate in an invasion of the Legion homeworld of Argus itself, and the imprisonment of Sargeras within the Seat of the Pantheon, marking the end of the Argus Campaign. With this, the Burning Crusade was brought to a decisive end, and the Legion dealt a crippling blow.[3]
Battlefields
Aftermath
In the RPG
Notes and trivia
Gallery
Videos
References