For naval mission, see The Burning Glacier.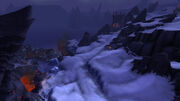 The Burning Glacier [44, 61]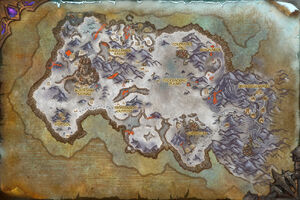 lies west of Frostwall, the Horde Garrison location in central Frostfire Ridge. Thrall, Archmage Khadgar, Farseer Drek'Thar, and the player make landfall here after escaping destroying the Dark Portal in Tanaan Jungle. Immediately southeast of the ship is the Frostcave (containing rare bat Chillfang), Gurun's Banquet is northeast (with rare ogron Gurun inside), Raider's Hideout is to the northwest (containing quest target Groog), and Stonefang Outpost is to the north high above on the Stonefang Ridge.
Notable inhabitants
Patch changes
External links