Buzzbox 411 (quest)
The subject of this article was removed from World of Warcraft in patch 4.0.3a.

This includes items and quests that can no longer be obtained or are now deprecated.
The in-game information in this article is kept purely for historical purposes.
In Buzzbox 411, you must collect Thresher Eyes for the gnome Wizbang Cranktoggle, which will allow him to fix this Buzzbox. You must have completed

 [10] Buzzbox 827 in order to obtain this quest.
Objectives
Bring 3 Thresher Eyes to Buzzbox 411 in Darkshore.
You will need:
Details
The coordinates for Buzzbox 411 are [42, 28]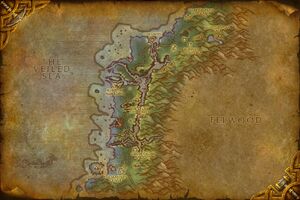 .
Thresher Eyes drop from Threshers off the coast of Darkshore – you can find them easily by swimming around outside of Auberdine. They look like Plesiosaurs.
Description
A tiny voice crackles from deep within the machine.
"Wizbang here! The next Buzzbox is north of Auberdine, on the beach
So, that Buzzbox is number 411 and it needs 3 Thresher Eyes for its repairs. They're just off the coast! The darkshore threshers... *Hic*... Sorry about that...
Just like last time, when you give the Buzzbox the goods, it'll spit out your reward. *Hic*... What? No, I'm fine!"
Reward
You will be rewarded with the following:
Progress
The machine's hatch is open and it seems to wait expectantly for 3 Thresher Eyes to be placed inside.
Completion
The Buzzbox hums to life soon after you place the Thresher Eyes inside. There is a moment of static before you hear a familiar tiny voice call out.
"Crawler wine is the best..." *hic*
"What? Oh, you fixed it already? Wow, you're a fasht one. Sho, would ya like to fix another?"
You believe you hear a liquid being poured into a cup, followed by loud gulping sounds.
Progression
 [10] 

Buzzbox 827

 [12] 

Buzzbox 411

 [14] 

Buzzbox 323

 [16] 

Buzzbox 525
External links