For the character biography, see C'Thun.
C'Thun (pronounced "Kah-Thoon" or "Kuh-THOON") is the final boss in the Temple of Ahn'Qiraj. Until the release of the original Naxxramas and later The Burning Crusade, C'Thun was considered the most difficult raid boss in the game.
Abilities
C'Thun is a two phase encounter focused primarily on proper positioning and unpredictable add control.
Phase One
Phase one initiates upon entering C'Thun's room, and lasts until the Eye of C'Thun is killed.
Eye of C'Thun

  Eye Beam — Deals 2625 to 3375 Nature damage to the target and jumps to nearby targets. Each jump increases damage dealt by 150%. Cannot be interrupted. 2 sec cast. Unlimited range.
  Dark Glare — Inflicts 43750 to 56250 Shadow damage to all enemies in front of the Eye of C'Thun. Dark Glare sweeps half of the room over 35 seconds. Cast every 85 seconds.

Claw Tentacle

  Ground Rupture — Causes 2250 to 2750 Nature damage to all enemies within 15 yards, knocking them back.
  Hamstring — Inflicts weapon damage plus 263 to 337 to an enemy, reducing its movement speed by 70% for 10 sec.

Eye Tentacle

  Ground Rupture — Causes 1350 to 1650 Nature damage to all enemies within 10 yards, knocking them back.
  Mind Flay — Deals 750 Shadow damage every second for 10 seconds and snares the target by 30%. Damage cannot be partially resisted.
Phase Two
After killing the Eye of C'Thun, the body of C'Thun rises from the ground to begin the second stage.
Strategy
Phase 1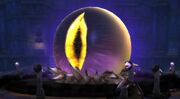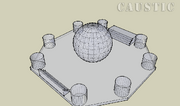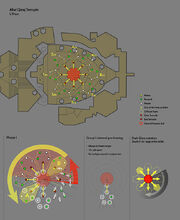 The initial phase of the C'thun encounter, characterized by an alternation between the Eye shooting Eye Beams for 50 seconds followed by 35 seconds of Dark Glare (detailed below) as well as periodic spawning of claw tentacles and eye tentacles.
When first entering C'Thun's chamber, the best strategy is to shield a player with high nature resist and have him enter the room ahead of the rest of the raid. This will cause the first few eye beams (described below) to hit the player with high nature resist, giving the rest of the raid a chance to get into position. A hunter is the ideal candidate for this, with their +60 Nature Resist from their aura and their ability to feign death and then put on normal gear. If the raid enters the room at the same time it is likely that a large portion will die from a chained eye beam.
Eye Beam (Green beam)
Eye of C'Thun casts one every 3 seconds for 2625 - 3375 Nature damage. If other players are standing nearby (within roughly 10 yards) the beam will instantly chain to them and their nearby allies, dealing 1.5x the damage it dealt to its previous target per jump, making the effect lethal past three jumps. Eye Beam is capable of striking all 40 players at once, so spreading out is key. A mod that approximates your distance with other raid members is recommended. The initial target is completely random, and the eye will roll around to face its target while casting. Eye Beam can be resisted, up to 100%, though Nature resistance armor is not encouraged. Nature protection potions can be used to help mitigate the damage taken.
Dark Glare (Red beam)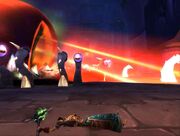 At the start of the "red phase" of phase one, the Eye of C'Thun will turn toward a new target, rapidly darken to a deep red color, and a shadowy cloud will appear in its pupil indicating the beam preparing to fire. Dark Glare appears as three large stacked red beams, and extends radially out from the Eye, inflicting 43,750 - 56,250 Shadow damage to any player struck by the beams. The Eye will slowly rotate while channeling this attack, clockwise or counterclockwise 180 degrees. It is possible to blink through it. Dark Glare pierces through the small pillars in the room and cannot be los'd. Though Dark Glare can be partially resisted, even resisting 75% of its damage will still result in a minimum of 10,938 damage taken.
Every 45 seconds, eight small eye tentacles will spawn at the edge of the black expanse radiating from C'Thun, equally spaced in a circle around it, and inflicting a damaging knockback to anyone standing within 10 yards of their spawn points. These tentacles are level 60 with 2,289 health, and randomly target players with a strong

[Mind Flay] spell that snares the target and deals 750 damage a second for 10 seconds. As Mind Flay is a binary spell, its damage cannot be partially resisted and must be interrupted. Eye tentacles are susceptible to many cc abilities such as disorients, interrupts, and stuns.
Claw tentacles spawn under random players with alarming frequency during phase one, varying in their location due to the necessity to keep raid members spread. These tentacles are level 60 and have 1,526 health. While their melee is fairly weak (approximately 200 damage per hit), they are capable of causing high raid damage via their rupture should players be even loosely stacked near a spawn. Both their

[Hamstring] attack and ground rupture make them deadly during dark glare, specifically as an unlucky spawn can knock players into the glare they are fleeing.
Phase 2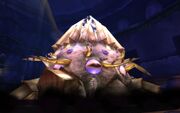 Begins upon killing the Eye of C'Thun. If no tentacle is alive, players are very briefly taken out of combat and are encouraged to drink during this minor transition. During this phase, C'Thun is empowered with the Carapace of C'Thun, which reduces all damage taken by 99%. In order to bring this shield down, players must weaken C'Thun.
Eye tentacles continue to spawn as in phase one, but with a reduced spawn timer set to 30 seconds (instead of 45). It remains key to cover the area around C'Thun each time eye tentacles spawn. Again, assigning small teams on each Eye Tentacle spawn is helpful, but players must stand out of range of their ground eruption to avoid getting knocked back.
Once every minute, with a 30-second offset from Giant Eye Tentacle spawns, C'Thun will summon a Giant Claw Tentacle at a random player's feet, and knocking back all nearby players for high nature damage. These tentacles are level 60 with 91,560 health, and should have a dedicated tank assigned to them due to their high melee damage. Additionally, they also have a Thrash ability (two extra attacks), giving them the potential to one-shot non-tank players. If no one is in melee range, they will burrow and re-emerge on a new target at full health, repeating the Ground Rupture attack. It is imperative that these are defeated before another one spawns in order to reduce the chance that this happens.
Once every minute, with a 30-second offset from Giant Claw Tentacle spawns, C'Thun will summon a Giant Eye Tentacle. They do the same Ground Rupture when they appear, and also melee just as hard. They repeatedly cast the same Eye Beam ability the Eye of C'Thun uses in phase one, but they can be stunlocked. They are level 60 with 36,624 health and, again, there appears to be no cap on the number of tentacles that can be spawned simultaneously. As with their small version, they are susceptible to crowd control such as disorients and stuns. As the raid is more closely packed together to bring down both small and giant tentacles, they are far more vulnerable to Eye Beam in this phase. Therefore, stun-locking and killing Giant Eye Tentacles is a priority.
Stomach of C'Thun - Flesh Tentacles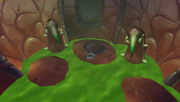 The stomach of C'Thun is an entirely separate room that cannot be reached by normal means. Every 10 seconds, an untargetable tentacle will emerge and devour a random person in the raid, pacifying the player being devoured. When devoured, you fall from the top of the new room into a pool of stomach acid, and are struck with an aura called Digestive Acid that deals 150 damage every 5 seconds. This aura reapplies itself every 5 seconds, and stacks indefinitely; after 20 seconds of being inside the stomach, you will have 5 stacks.
You can swim out of the stomach acid to one of three small landmasses. One of the landmasses has a dark circle on it which projects you out of C'Thun and back to the surface; you can use this to exit at any time. Note that if you don't position yourself at the center, you will be bounced against a wall and killed.
There are two Flesh Tentacles in the stomach which are level 60 with 24,416 HP each and have no abilities other than a melee attack. These Flesh Tentacles must both be killed in order to weaken C'Thun and remove its carapace. When this happens, a raid-wide emote will go out indicating that C'Thun has been weakened, causing it to turn purple and become vulnerable to damage for 45 seconds. At the end of this phase, C'Thun regains its carapace and both Flesh Tentacles respawn in his stomach.
Additionally, during the weakened phase, C'Thun will not spawn any tentacles. Your raid should aim to synchronize the death of the Flesh Tentacles in the stomach with the death of all tentacles on the surface, in order to focus all damage on C'Thun. 10 seconds after the weakened phase ends, C'Thun spawns a Giant Claw Tentacle.
Loot
Related achievements
Quotes
Ambience
Death is close...

You are already dead.

Your courage will fail.

Your friends will abandon you.

You will betray your friends.

You will die.

You are weak.

Your heart will explode.

It's all fun and games until someone loses an eye.

(Removed)
Sound scripts
See Sound Files of Kalimdor: C'Thun
Trivia
C'Thun is voiced by Marc Graue.
In its first inception, C'Thun was considered to be unbeatable with the contemporary level of gear. However, following a number of hotfixes, phase two was made considerably more controllable, and the first kills were registered in a matter of hours following one such hotfix. The original, pre-nerf version of C'Thun was restored for the Season of Mastery.
During the earliest attempts on C'Thun, some guilds stacked the Disgusting Aura from numerous Disgusting Oozelings to push off the Stomach Digestive Acid debuff (back when a debuff limit existed). Doing this allowed players to stay in the Stomach for an unlimited period of time.
Patch changes
Patch 1.14.3 (2022-04-19):

Fixed an issue in Classic Era where C'Thun would occasionally use his erratic movement animations during his Dark Glare ability.
C'Thun has been restored to his original, most horrific form for the Season of Mastery.

Developers' note: By popular demand, we've implemented the "pre-nerf" version of C'Thun in all of his mathematically impossible glory.


Patch 5.1.0 (2012-11-27): Players now have 5 minutes to escape C'Thun's stomach and resume the battle before it resets.

Patch 3.0.2 (2008-10-14):  

[

Base of Atiesh

]

removed.

Patch 1.11.0 (2006-06-19): C'Thun now drops the  

[

Base of Atiesh

]

.

Patch 1.10.0 (2006-03-28):

Removed the stacking acid from the Flesh Tentacles in the C'Thun encounter.
Digestive Acid now increases its effect over time during the C'Thun encounter.
Fixed a bug that could allow for the Digestive Acid debuff to be removed.
Lowered the amount of knockback dealt by Giant Tentacles.
Tentacles should no longer spawn on players who have just been knocked back by a previous tentacle.


Patch 1.9.0 (2006-01-03): Added.

Video
External links
Raid final bosses

Bosses in grey were redesigned in a later expansion or removed from the game.