Not to be confused with Crackers or  

[

Crackers

]

.
Cap'n Crackers
Use: Teaches you how to summon this companion.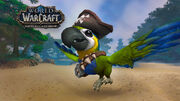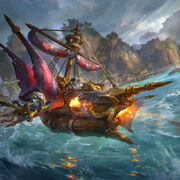 Cap'n Crackers the Baby Parrot is a parrot that can be purchased from the Blizzard Shop for $10.00.
Fresh off the high seas, this plucky feathered friend is just the companion you need on your swashbuckling adventures through Kul Tiras, Zandalar, and beyond.[1]
Pet Journal
Don't say anything to Cap'n Crackers that you don't want repeated to you every day for the next 20 years.
Sail the high seas with Cap'n Crackers, the baby parrot, perched on your shoulder.
Your New First Mate - Get hooked on Cap'n Crackers, and set sail for new adventures. Bring him home today and you ARRR not going to be disappointed. Low-effort pirate puns YARRRR not included.
Battles
Trivia
Videos
Patch changes
Patch 8.0.1 (2018-07-17): Added.

Activated on September 19, 2018.

References
External links
Purchase
Item
Battle pet types
Flying battle pets

Archetype of Motion

Archetype of Satisfaction

Battie

Bloodsucker Vespoid

Cap'n Crackers

Dusty Sporeflutterer

Enraged Poultrid

Fluttering Glimmerfly

Foulwing Buzzer

Fuzzy Shimmermoth

Gilded Wader

Helpful Glimmerfly

Larion Pouncer

Multichicken

Necroray Spawnling

Pearlwing Heron

Scarlet Proto Avian

Sinfall Screecher

Stony

Vibrant Glimmerfly

Wader Chick

Wild Etherwyrm