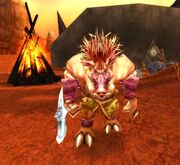 Captain Flat Tusk is a rare Razormane quilboar captain at Razormane Grounds in Durotar.
Abilities
Notes
The Battleguard mentioned in her title are the Razormane Battleguards.
Flat Tusk had a reputation as a particularly dangerous foe, primarily because she was one of, if not the first, elite mobs an orc or troll would meet. Thus, new players would sometimes, not knowing what the elite tag indicates, horribly underestimate her and be killed extremely quickly.
For most classes it is a fact that she could be soloed relatively easily from level 14 onwards. Adventurers below that level were advised to find some friends before attempting to slay her.
She was one of a very few old-world elite mobs who kept her elite status after patch 2.3, however, it was removed in patch 4.0.3a.
She had exactly 666 health, the mark of the beast, just like Hogger and Old Icebeard did.
Patch changes
Patch 8.0.1 (2018-07-17): Model updated and gender flipped.

Patch 4.0.3a (2010-11-23): Level reduced from 11 Elite to 7. Abilities changed.

External links