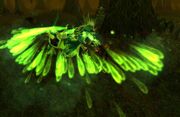 Captain Wyrmak is a rare dragonspawn in the Temple of Atal'Hakkar just outside the dungeon portal.
He was formerly known as Lord Captain Wyrmak, as a level 45 rare mob in the Swamp of Sorrows, in the area where the drake Somnus patroled.
Abilities
Acid Breath - Inflicts 10 Nature damage and an additional 2 damage every 5 sec. to enemies in a cone in front of the caster. Lasts 45 sec. Stacks up to 10 times.
Cleave - Inflicts 110% of normal melee damage to an enemy and its nearest ally.
Patch changes
External links
Primary dragonflights
Other dragonflights
Green Dragonflight

Groups