For the beta item, see  

[

Forest Sproutling

]

.
Captured Forest Sproutling
Use: Teaches you how to summon this companion.
Requires Steamwheedle Preservation Society - Revered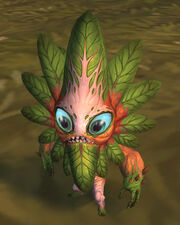 Captured Forest Sproutling teaches you how to summon a Forest Sproutling, a podling companion.
This item can be purchased for 1,000

2000

from Kwilax Fuseshiv in Nagrand, Gazrix Gearlock in Stormshield, or Mimi Wizzlebub in Warspear. You must be revered with the Steamwheedle Preservation Society to buy it.
Pet Journal
From seed to flower, a tiny terror is grown.
Battles
Elemental: Ignores all negative weather effects. Enemy pets can still gain the beneficial effects from weather when facing an elemental.
Patch changes
External links
Battle pet types
Elemental battle pets

Char

Dread

Forest Sproutling

Fun Guss

Leafadore

Mawtouched Geomental

Stabilized Geomental

Stemmins

Withering Creeper