Objectives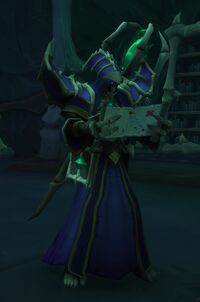 Defeat Sorcerer Vutral in the Vault of Souls.
Description
<A note has been left here for Kel'Thuzad. It does not appear that he has read it.>
Baron, I do not trust your new favorite acolyte. Something has been off about them ever since they returned from their ritual with the Kyrian remains.
Your work is too important to allow such discrepancies. The acolyte should be disposed of.
Faithfully,
Sorcerer Vutral
Rewards
You will receive:
Completion
<Sorcerer Vutral has been silenced, and with him the suspicions of your ruse.>
Notes
Southeast end of the vault. Though the quest suggests three players, it's soloable with good play. Clear out the guards first.
Aggro:
Sorcerer Vutral says: Treacherous worm! I knew you could not be trusted!
Defeat:
Sorcerer Vutral says: Your betrayal... will be... revealed...
Progression
Patch changes
External links