Castle Nathria (subzone)
This article is about the uninstanced subzone. For the raid, see Castle Nathria.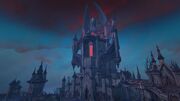 Castle Nathria is a castle located in central Revendreth. It is the home of the venthyr master Sire Denathrius. Its primary entrance is only within the Court of the Harvesters, though two entrances can be seen from the Bridge of Paramountcy and the Bridge of Temptations, though both are gated and inaccessible.
Trivia
Gallery
Patch changes
References