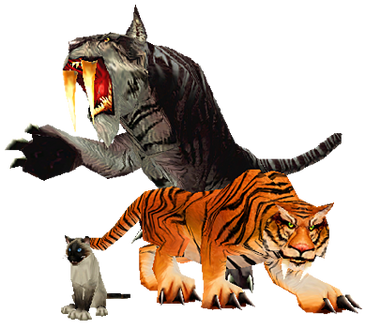 For other uses, see Cat (disambiguation).
Cats are carnivorous predators that usually hunt by sneaking up on their prey to pounce upon it. They vary in size from a few pounds to several hundred pounds, and most wild felines can kill prey considerably larger than themselves. Only a few species of cat are strong swimmers.[citation needed]  Smaller cats also appear in the World of Warcraft, they are domesticated felines, often called house cats, and are a delicacy to murlocs.[1]
A type of large cat called a saber is also the night elf racial mount.
Tigon, tol'vir and saberon are cat-like humanoids.
Traits
Cat species

This section contains information from the Warcraft RPG which is considered non-canon.
Epic mount
Main articles: Cat mounts, Saber cat mounts
The saber mounts are bought in Darnassus and in the Argent Tournament except for the Wintersaber, Zulian Tiger and Spectral Tiger.
As a hunter pet
Their appealing looks, commonness throughout the game, and variety make them a popular choice. Their

[

Prowl

]

ability works well with a night elf hunter's

[

Shadowmeld

]

. They also hold the honor of being the only Hunter pet to have two unique pet abilities, rather than the usual one.
Patch changes
Gallery
See also
References
External links

Petopia
Creature group
Beast creatures

 

Arthropod

Arachnid
Crustacean
Insect

 

Mammal

Carnivoran
Ungulate

Bovids
Camelids
Cetaceans
Proboscids
Swine
 

Basic
Special

Acid Bite

Chi-Ji's Tranquility

Defense Matrix

Dragon's Guile

Feather Flurry

Fleethoof

Furious Bite

Grievous Bite

Infected Bite

Nether Energy

Niuzao's Fortitude

Obsidian Skin

Scale Shield

Spirit Pulse

Toxic Sting

Winged Agility

Exotic

Calcified Carapace

Dune Strider

Shimmering Scale

Bonus
Specialization