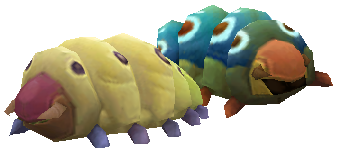 Caterpillars are the young stage of various flying insects, introduced in Mists of Pandaria that inhabit Pandaria. The silkworms are moth's caterpillar.[1] After being fed they produce some raw silk.[2] Prized for their ability to spin cocoons of silk, in the wild, to the untrained eye, they can be difficult to discern.[3]
Notable
Types
As an item
As a companion
As a hunter pet
Main article: Worms as a hunter pet
Caterpillars are part of the Worm category of hunter pets and are tamable with

[Exotic Beasts] starting at level 69.
References
^  [15-35] 

The Moth Rebellion

^  [15-35] 

Where Silk Comes From
Creature group
Beast creatures

 

Arthropod

Arachnid
Crustacean
Insect

 

Mammal

Carnivoran
Ungulate

Bovids
Camelids
Cetaceans
Proboscids
Swine