Celestial Steed
Mount
Use: Teaches you how to summon this mount. The capabilities of this mount depend on your Riding skill and location.
Requires Level 10
Requires Apprentice Riding
The Celestial Steed serves both as a flying and a ground mount depending on the terrain. Freshly born from the Twisting Nether, this supernatural warhorse takes flight with wings of pure elemental stardust.
This mount is directly purchasable from Blizzard. Released on April 15, 2010, it is the first mount to ever be offered in this way.
Source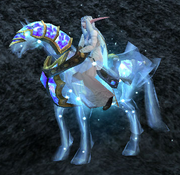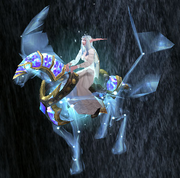 This item is available for purchase from the shop or the In-Game Store for $25 or €25. It was released on April 15, 2010 along with
 [Lil' XT].
Mount Journal
A beacon of hope; a guiding light in the darkness.
Saddle up the stars on this supernatural flying mount.
Light up the night skies of Azeroth - Freshly born from the Twisting Nether, the Celestial Steed flying mount lets you travel in style astride wings of pure elemental stardust. So saddle up, because this supernatural warhorse will fly as fast as your riding skill will take you.
Mail
Players are mailed this mount by Mei Francis:
Celestial Steed
<Name>,
I'm told you've been searching for a -truly- exotic mount.
How about one that'll have you seeing stars?
At last, your search is over. Enjoy!
Mei Francis
Exotic Mounts
Dalaran
Named
Notes
Available only to players on realms located in North America, Europe, and Korea.[1]
Players who purchase it receive a code similar to that of the loot cards. When you enter the code in your account all characters are mailed a copy of this pet, as well as any future characters you create.[1]
As of the date of release, those using old graphics cards or using fixedFunction will see odd graphics on the model for this mount.[2]
Videos
Patch changes
Patch 4.0.1 (2010-10-12): No longer requires you to remount to enable flying when riding out of a no-fly zone.

Patch 3.3.3 (2010-03-23): Added.

First available on April 15, 2010.

References
External links
Purchase
Blizzard Store
 World of Warcraft® Mount: Celestial Steed (US)
Blizzard Store
 World of Warcraft® Mount: Celestial Steed (EU)
Item
Mount family

Dragonkin
Feathermane
Invertebrate
Mammal
Reptile
Other

Specific types

 

Horse mounts

Normal

Skeletal

Related
animals

Magical
Class