The subject of this article can no longer be obtained.

The in-game information in this article is kept purely for historical purposes.
Cenarion Hatchling
Use: Teaches you how to summon this companion.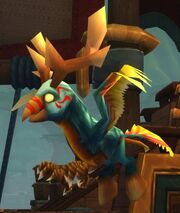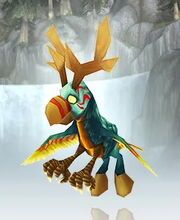 The Cenarion Hatchling is a hippogryph hatchling companion.
Source
This item was available from the shop or the In-Game Store for $10 or €10. It was released on May 2, 2011.[1]
With the See You Later Bundle on December 20, 2019, this pet was available at a discounted price with other items. As of January 19, 2019, the pet is no longer available for purchase, and it has entered hibernation in the Blizzard Archive.[2]
Pet Journal
Not yet the fearsome creatures they grow to in adulthood, the Cenarion hatchlings have an almost harmless appearance that has caught novice trainers of the Cenarion Circle off guard.
Restore balance to nature with the Cenarion Hatchling by your side.
Tree-huggingly huggable - The druids of the Cenarion Circle regard hippogryphs as valued allies in their ongoing quest to restore order and balance to the natural world. Now is your chance to tend to a hippogryph hatchling of your very own.
Battles
Letter
Players are mailed this pet by Keeper Remulos:
Cenarion Hatchling
Adventurer,
It is my hope to express the gratitude of the Cenarion Circle for your assistance in rebuilding the shattered world through this gift.
May this loyal and lovable hatchling prove a fine friend on all your future journeys.
--Keeper Remulos
Notes
Until July 31, 2011, Blizzard donated 100% of all sales from this companion to the American Red Cross's Japan Earthquake and Pacific Tsunami relief efforts.[1] Over $1.7 million dollars was raised.[3]
Available only to players on realms located in North America, Europe, and Korea.
Players who purchase it receive a code similar to that of the loot cards. When you enter the code in your account all characters are mailed a copy of this pet, as well as any future characters you create.
It is identical to the  

[

Hippogryph Hatchling

]

.
Patch changes
References
External links
Purchase
Item
Battle pet types
Flying battle pets

Archetype of Motion

Archetype of Satisfaction

Battie

Bloodsucker Vespoid

Cenarion Hatchling

Dusty Sporeflutterer

Enraged Poultrid

Fluttering Glimmerfly

Foulwing Buzzer

Fuzzy Shimmermoth

Gilded Wader

Helpful Glimmerfly

Larion Pouncer

Multichicken

Necroray Spawnling

Pearlwing Heron

Scarlet Proto Avian

Sinfall Screecher

Stony

Vibrant Glimmerfly

Wader Chick

Wild Etherwyrm