Crithto

Role
Community Manager (formerly)

Most recent posts on WoW Forums

Twitter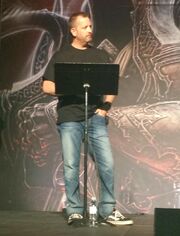 Crithto (real name, Chad Wingerd) is a former Blizzard employee and Community Manager for the NA World of Warcraft Community team and had been with the company since April, 2008. He has an NPC named after him: Crithto.
Since March 2013 Crithto had been featured in Major Payne's Pet Menagerie and Advanced Pet Battles Training articles, dispensing vital information on the habits and character of a featured battle pet each week, and could also be found posting announcement and discussion threads for each on the official forums.
He helped manage the @Warcraft, @WarcraftDevs, and @BlizzCon Twitter accounts. At BlizzCon in 2013, he hosted the Art of World of Warcraft panel with designers Gary Platner, Wendy Vetter, Chris Robinson, Eric Browning, and Steve Aguilar.
On October 7, 2015, Crithto announced that he was leaving Blizzard Entertainment to pursue an opportunity that had been recently offered to him. His final day was October 8, 2015.[1] His Twitter account as CM Crithto is no longer in use as of the same day.[2]
On October 14, 2015, Chad Wingerd revealed that he was the new Community and Communications Manager for GUNNAR Optiks.[3]
Awards
Crithto is part of the two-time award winning "Top Community Management Team" (Guild Launch Dragon Slayer Awards, 2012 and 2013). [4] [5]
References
External links