Celestalon

Role
Technical Game Designer

Most recent posts on WoW Forums

Twitter
Chadd Nervig, also known as Celestalon,[1] was a Technical Class/Systems Designer for World of Warcraft.[2] He was the designer of the Endless Halls,[3] and played an important part in the design of artifact weapons. He was also involved in design work on Hearthstone.[4][5]
Celestalon uses a

 [Celestial Dragon] as his avatar on Twitter and the official forums.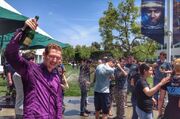 Celestalon started posting on Twitter on November 19, 2013.[6] He left the World of Warcraft team to join the Hearthstone team on December 8th 2017.[7]
See also
Gallery
References
External links

Celestalon on Twitter