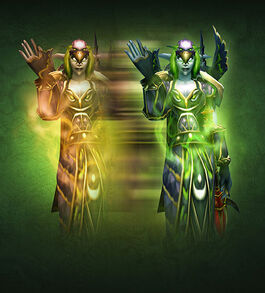 A Character Clone is a paid service that lets the player copy a character from Burning Crusade Classic or Classic into the other classic server.
Originally, this service was only available as part of the Public Test Realm as a "Copy Character" button in the Character selection screen.
The paid service will be retiring on 26 July 2022.[1]
Limitations
Activating a clone is irreversible. Once a clone is activated, it cannot be deactivated
A clone is a snapshot copy of your WoW Classic character taken right before the Burning Crusade Classic pre-patch

Includes your inventory, items in the bank, items in the mailbox, and friends list
Characters created after pre-patch are not cloned. This means you cannot activate the clone of a Draenei or Blood Elf character on a Classic Era realm. By extension, you cannot activate the clone of an Alliance Shaman or Horde Paladin on Classic Era realm
Any game progress you make on the Burning Crusade Classic Progression realm after pre-patch will not translate to Classic Era
Characters you deleted before pre-patch are cloned and can be activated, as long as you can undelete the character

You can hide deactivated clones from your character selection screen. However, a deactivated clone still counts against your total character limit on your realm

You can delete and undelete clones as any other character

Activating a clone on a Classic Era realm type does not give you a choice of realm

Your character will remain on the same realm it was before pre-patch. For example, if you played on Ashbringer in WoW Classic, you can activate your character on Classic Era Ashbringer, or on Progression Ashbringer, or pay to activate both
If you want to transfer to another realm, you can purchase a Character Transfer service from the character selection screen

It is not possible to transfer a character (either a clone or a newly created character) between a Progression realm and a Classic Era realm

You can transfer a Burning Crusade Classic Progression character to another Burning Crusade Classic Progression realm
You can transfer a Classic Era character to another Classic Era realm

Characters activated on a Classic Era realm are all guild-less, including Guild Masters. On Classic Era realms, all guilds must be recreated.
Gallery
External links