AddOn article
This page describes fan-made scripting using the World of Warcraft
API
which has had notable impact on the game's development/history.
ChatThrottleLib is a small, embeddable library by Mikk that keeps outbound chat and addon communication from exceeding the output rate limit in WoW that otherwise causes players to disconnect from the server. It also has a number of features that will help you make your addon communication run smoother!
Benefits of using ChatThrottleLib:
You keep players from getting disconnected when your addon sends too much data
You can easily prioritize your traffic in three priorities
Communication to different peers is handled as individual flows. A long stream of data to "Alice" doesn't interrupt short bursts of traffic to "Bob".
All AddOns using ChatThrottleLib count toward the same maximum, so multiple addons can't cause an overload. Priorities ensure that real-time traffic is still real-time. And addons are given a fair share of bandwidth, so one addon can't lock all others out.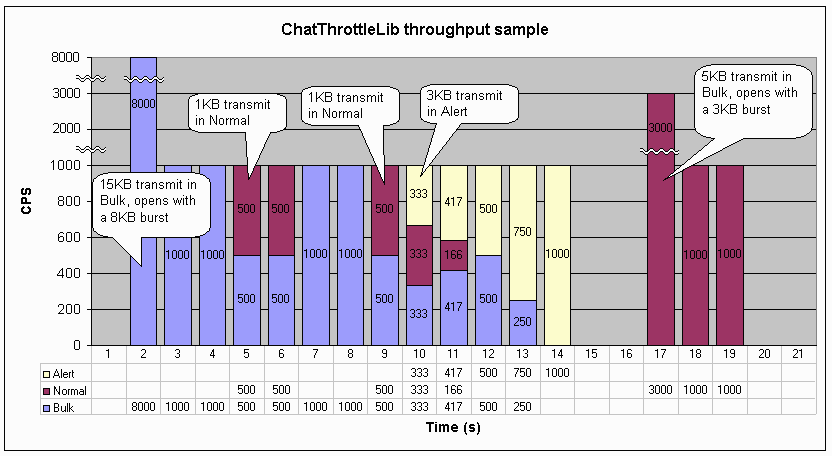 ChatThrottleLib does:
Round-robin traffic shaping of different communication paths
Prioritization of messages according to three predefined priorities: "BULK", "NORMAL" and "ALERT"
NO queueing of traffic needlessly. No lag is introduced until it needs to be.
Adaptive throttling based on chat traffic bypassing the library
Adaptive throttling based on framerate
Communications libraries already using ChatThrottleLib
ChatThrottleLib APIs
Notes on outbound rate
Throttling algorithms
Change Log
How to use ChatThrottleLib