Chef's Hat
Toy
Equip: Allows you to cook faster. (3 Sec Cooldown)
Requires Northrend Cooking (25)
Source
This item is sold by the following vendors for 100

:
Related achievements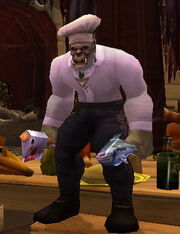 Acquiring this hat satisfies the

 [Cooking with Style] achievement.
Letter
Players who had the hat version of this item prior to patch 7.0.3 are mailed the toy version by Jepetto Joybuzz:
Upgraded Toy
Hello adventurer! I recently upgraded one of your items to make it new and improved and better and slightly less likely to explode when handled. Unfortunately I am terribly busy and am unable to deliver the item in person - I hope you enjoy it!
Notes
The speed increase is 300% (casting time decreased by 75%); normal cooking speed is 2 seconds, and with the hat it drops to 0.5 seconds.
Patches and hotfixes
External links