Cheng Bo!

Start
Automatic
End
Master Snowdrift [49.4, 70.6]
Level
25-35
Type
Daily
Category
Townlong Steppes
Experience
236000
Reputation
+250 Shado-Pan
Rewards
19 84 50 2
Repeatable
Yes
Objectives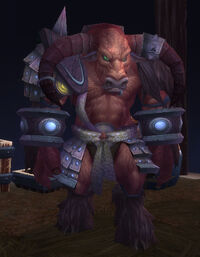 Kill Cheng-Bo at Fire Camp Gai-Cho in Townlong Steppes.
Description
Cheng Bo is the Warbringer of Fire Camp Gai-Cho. While you've made a dent in their operations, you now have an opportunity to strike a major blow.
Slay the Warbringer!
Rewards
Progress
How goes the assault?
Completion
With Cheng Bo subdued, we can refocus our efforts on our other enemies. Your efforts earn you much respect, <name>.
Gains
Notes
Cheng Bo is situated in the westernmost tent on the highest rise of Fire Camp Gai-Cho, guarded by several other yaungol.
Progression
Patch changes
External links