For the critter, see Chicken (critter).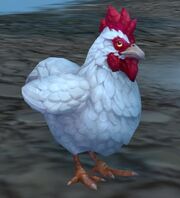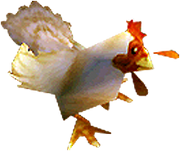 Chickens are domesticated bird critters found in many areas of Azeroth.
They tend to avoid crossing roads, regardless of motivations.[1] Szechuan Chickens will only lay eggs in bright light.[2]
Notable
Mechanical
Types
Mechanical
As a mount
Main article: Magic Rooster Egg

 [Magic Rooster Egg] is obtained from a rare loot card in the TCG expansion Fields of Honor.
As a companion pet
As a combat pet
Gallery
Patch changes
See also
References
Creature group
Critter creatures

Amphibian
Arachnid
Bird
Crustacean
Fish
Insect
Mammal
Reptile
Other