Child of Jani
Use: Teaches you how to summon this companion.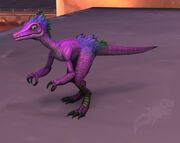 Child of Jani is a saurid companion sold by

 Happy Holaua in Dazar'alor and

 Dodger in Boralus for 200

, after completing the achievement

 [Get Hek'd].

This section concerns content related to Shadowlands.
Several are found caged at the docks in Tazavesh, the Veiled Market.
Pet Journal
The scavenger Loa thinks you can teach this saurid a thing or two. Just don't lose sight of your coin purse.
Battles
Patch changes
External links
Battle pet types
Beast battle pets

Archetype of Cunning

Archetype of Discovery

Archetype of Predation

Bloodfeaster Spiderling

Blushing Spiderling

Child of Jani

Copperfur Kit

Corpulent Bonetusk

Goldenpaw Kit

Green Viperid

King Viperid

Momma Vombata

Red Viperid

Rosetipped Spiderling

Ruby Baubleworm

Rustfur Kit

Sable

Tarachnid Ambusher

Tarachnid Stalker

Topaz Baubleworm

Tunneling Vombata

Turquoise Baubleworm

Verdant Kit

Viperid Menace

Vombata Pup