"Metzen" redirects here. For the Feast of Winter Veil NPC, see Metzen the Reindeer.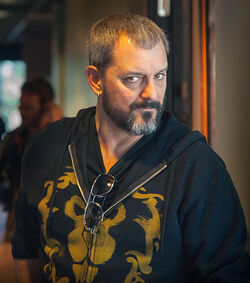 Chris Metzen is the former Senior Vice President of Story & Franchise Development at Blizzard Entertainment.[1][2][3] He announced his retirement on September 12, 2016, citing a desire to spend more time with his family.[4] Metzen was succeeded by Lydia Bottegoni.[5]
Biography

Metzen began his career in Blizzard Entertainment as an artist[6] in 1994, at the age of 19.[7] He began working on Warcraft: Orcs & Humans late in the game's development.[8] Storyline was left to Allen Adham and Ron Millar.[9] In Warcraft II: Tides of Darkness he took a bigger role as the designer of the story, but also made artwork and voice acting.[10] In Warcraft II: Beyond the Dark Portal Blizzard Entertainment outsourced Cyberlore Studios to do the game and Metzen was in charge of storyline consultation and editions.[9] He served as the creative director of Warcraft III: Reign of Chaos.[8]
In the 2000s, Metzen came up with the concept of "strike teams" that were not assigned with any of Blizzard's numerically-designated development teams, in order to provide feedback and keep the company's culture intact.[7]
Metzen worked with Blizzard's cinematic team, and gave feedback on its storyboards.[11] He was also credited as creative director for Overwatch.[12]
His style characterized the earlier Warcraft, StarCraft and Diablo series and he eventually became art director.[2] His position in creative development gave him the reins over lore and storylines created for the games of the Blizzard franchises, the foundations of which were laid by previous designers.[9] Metzen later served as co-producer of the 2016 Warcraft film,[13] and wrote the story for both the film's prequel novel Warcraft: Durotan and novelization. The last Warcraft project Metzen worked on before his retirement was the intro cinematic for World of Warcraft: Battle for Azeroth.[14]
Retirement
In September 2016 Metzen announced his retirement, at the age of 42, after nearly 23 years at Blizzard. In a special post on all Blizzard forums Metzen shared the story of his entry into the games industry, his experience working at Blizzard, and the importance of friendship in gaming, describing Blizzard as a "tribe" and a "second family". He explained that he chose the word "retire" to reflect that he was not moving onto new projects, but stepping back from all projects, saying it was "time to slow it down" and to focus on "the one thing that matters most to me in all the world—my family", including his newly arrived third child.
The announcement saw a large response on the forums and social media from players and coworkers alike, and was reported across the gaming media and beyond.[15][16][17][18] World of Warcraft Systems Designer Russ Petersen remarked, "One man's contributions to a large project are sometimes overstated. Not so for [Chris Metzen] and Warcraft. It wouldn't be, without him."[19] Metzen later confirmed on Twitter that he would continue to voice Thrall.[20]
Voice credits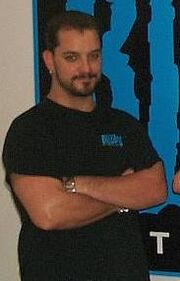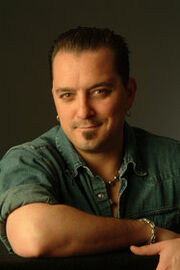 This section concerns content related to The Burning Crusade.
Other works
Notes and trivia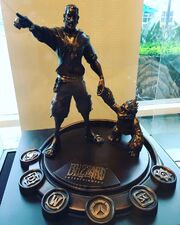 He has voiced numerous characters in the Warcraft and StarCraft games.[24]
In World of Warcraft, his responsibility extended into coordinating with artists to create environments that give players a sense of continuity and cohesiveness.[2]
Metzen has used the alias "Thundergod" in multiple online venues, and also self-styles himself as "The Bourbon Cowboy".
Metzen's favorite hero in Warcraft lore is Malfurion Stormrage.[26]
Metzen has cited Walter Simonson's run on The Mighty Thor as his personal favorite comic book run ever and perhaps his single greatest inspiration as a storyteller. He further described the comic as having been "hardwired into Warcraft's DNA from the very start" and jokingly stated that he'd never publicly admit to having lifted several ideas from it and incorporated them into the Warcraft setting.[27]

This is presumably also the inspiration behind Metzen's "Thundergod" nickname.

In an attempt to calm down the disappointed Horde audience at BlizzCon after it was announced that the Warcraft movie would focus on the Alliance perspective, he said that "His heart lies with the Horde" but "a blockbuster movie its a little rough to try and tell it from the perspective of this green looking dude."[28] The former line has since been highly exaggerated by the Warcraft fan base.
His main World of Warcraft character is a human retribution paladin.[29][30] His two second highest characters are on Horde: a tauren druid and orc warrior.[31]
Chris Metzen was part of Team Alliance on Azeroth Choppers, along with Monte Krol and Terran Gregory.[33]
Personal touches
See also
References
External links
Interviews